Roundup Ready 2 Xtend® Soybeans
Roundup Ready 2 Xtend® Soybeans are built on proven, high yielding Genuity® Roundup Ready 2 Yield® trait technology that offers farmers the highest yield opportunity with more beans per pod and more bushels per acre.
The industry's first soybean product with a trait for tolerance to both dicamba and glyphosate herbicides for the broadest weed control yet. Designed to fight glyphosate-resistant and tough-to-control broadleaf weeds along with grassy weeds.
---
O 30X9 Rel. Maturity: 3.0 |

KNOW2GROW™ OBSERVATIONS
A top line in the elite testing program in Nebraska
Incredible plant style! Good height and width for its maturity
Medium plant height with excellent yield potential
This line brings added depth into the Ohlde line up
A good option for those high pH situations
---
PLANT TRAITS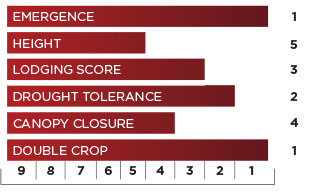 DISEASE TOLERANCE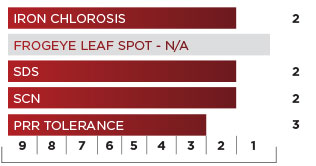 GENERAL CHARACTERISTICS
| | |
| --- | --- |
| Maturity (Days) | 3.0 |
| Plant Height | Medium |
| Canopy Type | Intermediate |
| Soil Type | All |
RECOMMENDED YIELD ENVIRONMENTS

TRAIT TECHNOLOGY
---
O 34X7 Rel. Maturity: 3.4
KNOW2GROW™ OBSERVATIONS
Extremely consistent performing line across a wide geography
Brings a good disease package for all types of environments
Medium plant height that will work under high yield environments
Excellent standability with quick emergence
---
PLANT TRAITS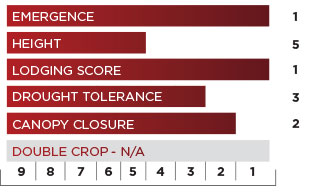 DISEASE TOLERANCE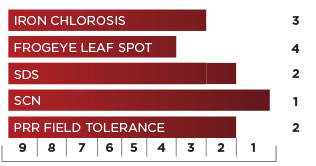 GENERAL CHARACTERISTICS
| | |
| --- | --- |
| Maturity (Days) | 3.4 |
| Plant Height | Medium |
| Canopy Type | Intermediate Bush |
| Soil Type | Loam |
RECOMMENDED YIELD ENVIRONMENTS
TRAIT TECHNOLOGY
---
O 37X7 Rel. Maturity: 3.7
KNOW2GROW™ OBSERVATIONS
This Medium Tall plant is a great fit for upland type conditions with good plant height and row width 
Dominating performance in the 2015, 2016 and 2017 data vs the best RR2 Xtend's in the market place
Yield consistency and yield stability define O 37X7
This is an excellent choice for clay soils. Keep off your loams
---
PLANT TRAITS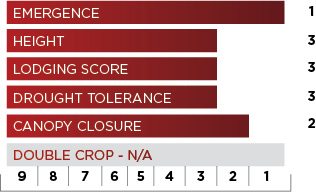 DISEASE TOLERANCE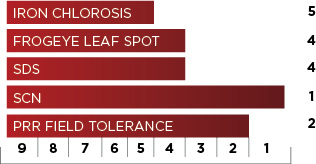 GENERAL CHARACTERISTICS
| | |
| --- | --- |
| Maturity (Days) | 3.7 |
| Plant Height | Medium |
| Canopy Type | Intermediate Bush |
| Soil Type | Clay |
RECOMMENDED YIELD ENVIRONMENTS

TRAIT TECHNOLOGY
---
O 37X9 Rel. Maturity: 3.7 |

KNOW2GROW™ OBSERVATIONS
Excellent choice for those double crop situations
Great emergence to get up and out of the ground quickly
Medium tall plant height that works well in narrow planted rows
Good frogeye tolerance, STS, and is a salt excluder
---
PLANT TRAITS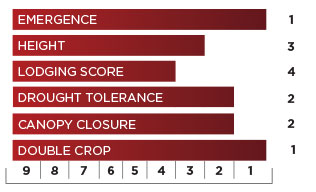 DISEASE TOLERANCE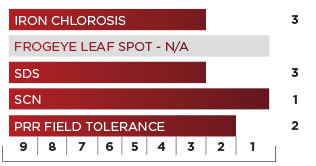 GENERAL CHARACTERISTICS
| | |
| --- | --- |
| Maturity (Days) | 3.7 |
| Plant Height | Medium Tall |
| Canopy Type | Intermediate |
| Soil Type | All |
RECOMMENDED YIELD ENVIRONMENTS

TRAIT TECHNOLOGY

---
O 39X6 Rel. Maturity: 3.9
KNOW2GROW™ OBSERVATIONS
Medium Tall plant that maintains its height and has great standability
Another good choice for those double crop situations
Works great in high pH soils
Has an excellent disease package with great PRR resistance and good Green Stem ratings
---
PLANT TRAITS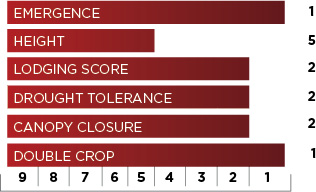 DISEASE TOLERANCE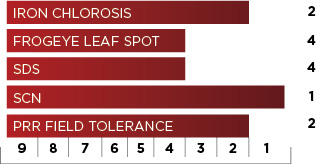 GENERAL CHARACTERISTICS
| | |
| --- | --- |
| Maturity (Days) | 3.9 |
| Plant Height | Medium Tall |
| Canopy Type | Intermediate Bush |
| Soil Type | Clay - Loam |
RECOMMENDED YIELD ENVIRONMENTS

TRAIT TECHNOLOGY

---
O 39X8 Rel. Maturity: 3.9
KNOW2GROW™ OBSERVATIONS
Shows good height and canopy to help shade out those weeds
Very good SDS score
This bean covers a wide geography for all yield environments
O 39X8 exhibited great stress tolerance in 2017
---
PLANT TRAITS
DISEASE TOLERANCE
GENERAL CHARACTERISTICS
| | |
| --- | --- |
| Maturity (Days) | 3.9 |
| Plant Height | Medium Tall |
| Canopy Type | Intermediate Bush |
| Soil Type | All |
RECOMMENDED YIELD ENVIRONMENTS

TRAIT TECHNOLOGY
---
O 41X8 Rel. Maturity: 4.1
KNOW2GROW™ OBSERVATIONS
Medium plant height with very good standability
This bean is a yield dominator in the late three and early four maturity groups
Shows incredible leaf area and will be quick to canopy
O 41X8 is the bean to have on your farm
---
PLANT TRAITS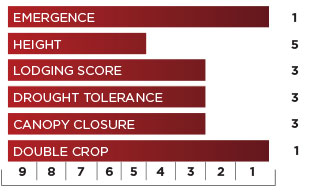 DISEASE TOLERANCE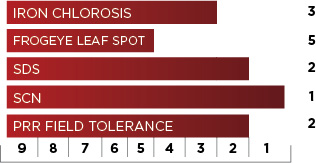 GENERAL CHARACTERISTICS
| | |
| --- | --- |
| Maturity (Days) | 4.1 |
| Plant Height | Medium |
| Canopy Type | Intermediate Bush |
| Soil Type | All |
RECOMMENDED YIELD ENVIRONMENTS

TRAIT TECHNOLOGY

---
O 42X6 Rel. Maturity: 4.2
KNOW2GROW™ OBSERVATIONS
Very good stress tolerance for those tough acres
Quick vigor that pops out of the ground
Good plant height – moves south well
Plant on your bottoms or your hills – this bean can go just about anywhere
---
PLANT TRAITS
DISEASE TOLERANCE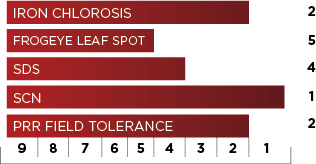 GENERAL CHARACTERISTICS
| | |
| --- | --- |
| Maturity (Days) | 4.2 |
| Plant Height | Medium Tall |
| Canopy Type | Intermediate Bush |
| Soil Type | All |
RECOMMENDED YIELD ENVIRONMENTS

TRAIT TECHNOLOGY
---
O 44X7 Rel. Maturity: 4.4
KNOW2GROW™ OBSERVATIONS
Consistent top-end performance in the 2016 and 2017 Know2Grow™ trials
Works well on multiple soil types, conditions, and geographies
Medium tall plant that will be quick to canopy and stacked with STS
Good Charcoal Rot, PRR, and SDS tolerance
This bean needs to be on your farm in 2019
---
PLANT TRAITS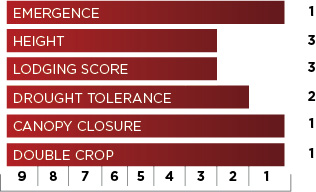 DISEASE TOLERANCE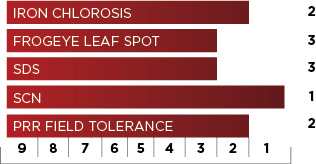 GENERAL CHARACTERISTICS
| | |
| --- | --- |
| Maturity (Days) | 4.4 |
| Plant Height | Medium Tall |
| PRR Tol | Intermediate Bush |
| Soil Type | All |
RECOMMENDED YIELD ENVIRONMENTS

TRAIT TECHNOLOGY

---
O 45X6 Rel. Maturity: 4.5
KNOW2GROW™ OBSERVATIONS
Medium Tall plant height stacked with STS, is a salt excluder, and has excellent Green Stem ratings
Likes to be planted in narrow rows with a narrow canopy and stands extremely well
Shows good guts in low yields and responds to high yield environments
---
PLANT TRAITS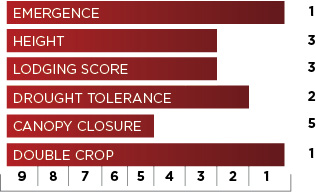 DISEASE TOLERANCE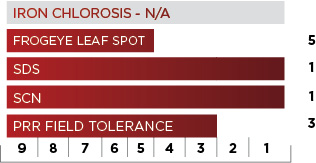 GENERAL CHARACTERISTICS
| | |
| --- | --- |
| Maturity (Days) | 4.5 |
| Plant Height | Medium Tall |
| Canopy Type | Thin |
| Soil Type | Clay |
RECOMMENDED YIELD ENVIRONMENTS

TRAIT TECHNOLOGY

---
O 46X6 Rel. Maturity: 4.6
KNOW2GROW™ OBSERVATIONS
Big plant style that will be quick to canopy
Good disease package which contributes to its yield
Good for double crop situations
Keep off your loams
---
PLANT TRAITS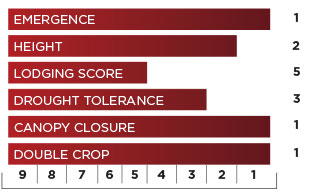 DISEASE TOLERANCE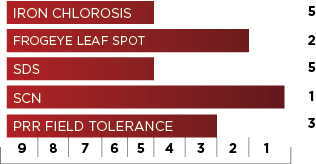 GENERAL CHARACTERISTICS
| | |
| --- | --- |
| Maturity (Days) | 4.6 |
| Plant Height | Medium Tall |
| Canopy Type | Bush |
| Soil Type | Keep off your loams |
RECOMMENDED YIELD ENVIRONMENTS

TRAIT TECHNOLOGY

---
O 48X8 Rel. Maturity: 4.8
KNOW2GROW™ OBSERVATIONS
Tall plant style with a very good standability
Resistant to Stem Canker with a great SDS score
Salt excluder for those high pH soils
This bean has shown good stress tolerance and is stacked with STS
---
PLANT TRAITS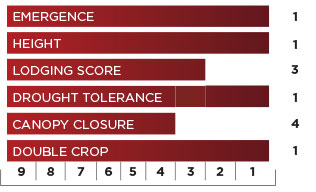 DISEASE TOLERANCE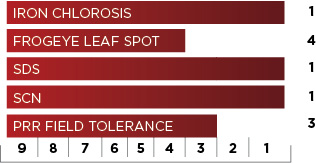 GENERAL CHARACTERISTICS
| | |
| --- | --- |
| Maturity (Days) | 4.8 |
| Plant Height | Tall |
| Canopy Type | Intermediate |
| Soil Type | All |
RECOMMENDED YIELD ENVIRONMENTS

TRAIT TECHNOLOGY

---
O 51X8 Rel. Maturity: 5.1
KNOW2GROW™ OBSERVATIONS
Exceptional emergence and early season vigor
Frogeye tolerance is outstanding
Great product for your farm if the maturity fits
---
PLANT TRAITS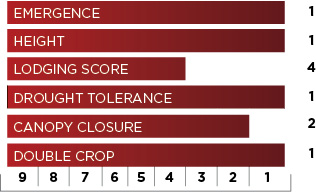 DISEASE TOLERANCE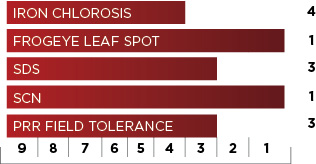 GENERAL CHARACTERISTICS
| | |
| --- | --- |
| Maturity (Days) | 5.1 |
| Plant Height | Tall |
| Canopy Type | Intermediate |
| Soil Type | Clay |
RECOMMENDED YIELD ENVIRONMENTS

TRAIT TECHNOLOGY